That afternoon, we went down to Fladdabister (the south end of the island) to see some errant Shetland pony stallions who had broken through their electric fence to ravage a bale of silage.
You could see they were hoping we wouldn't mind and to be honest, they didn't care much either.  Jubilant, the ring leader, couldn't understand what all the fuss was about.
After all, he could almost fit his whole head in it (as he kept showing us, over and over again).
This little lad managed to look very embarrassed and was apologising profusely that he had been easily led.  Of course, he was forgiven.
This is Odinn who is a youngster and obviously another one who learned what to do.
So while Bjørn mended the fence, I did the usual pottering to take pics.
Look, look a very rare sight in Shetland – a tree.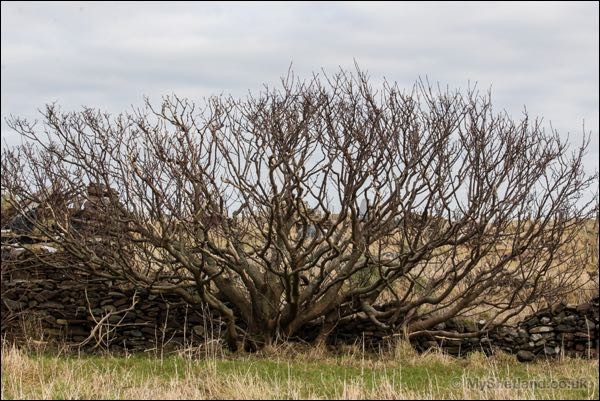 So the unrepentant boys were moved from their bale back into their field.
They were told not to go back (but don't hold your breath).
These Shetland pony stallions are wonderful boys – very easy going and very comical but they look for the chink in the armour and exploit it hugely, laughing while they lull you into a false sense of security.
In case you are wondering, we had to return to the field a few hours later and found the same lot trying to get back to the bale!
I love this picture because I think it sums up what Shetland is all about.