I have acute sinusitis – if anyone is passing who has done even just a coffee morning in trepanning, please feel free to drop in and have a shot on me.  My head is exploding so I am trying to rest, stay warm and delegate as much as possible.
I did manage to get outside today as I was told Puzzah was on his own.
I found Iacs instead.
And then the rest.
Albie immediately came over.
And little Newt pushed his way through the forest of legs to come and chat.  I may have a couple of old bananas and apple on me too!
It is a bleak time of year for the horses – we will move them tomorrow over to Clothie for a week, while I am away south.  I leave on Wednesday for 6 days to help my mother.
The sheep will be happy to have their field back too. They hate sharing and have left in a huff.
Meanwhile, Puzzah was drifting about by himself and while the other Boyzens were miles away in a happy, if neglectful, group.  Puzzah can't get his mighty horns under the hole in the fence so was left behind.
I shouted at them and they came racing over.
Jumping the burn and galloping towards me.
It was starting to get dark because it was after lunch and we are nearing the shortest day soon.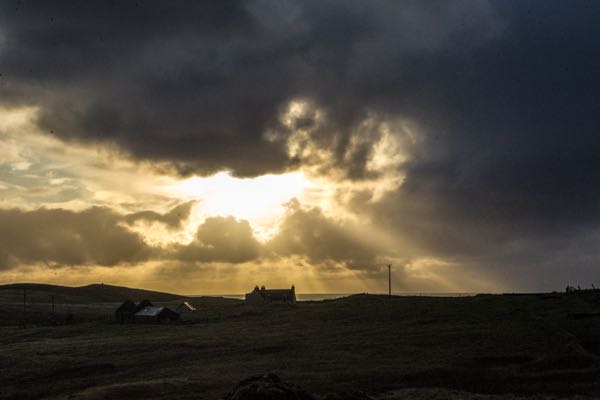 Puzzah was glad the others had come home.
I love the way the white hen is in the same step as Lambie – a dressage chicken/sheep combo!
The daily smörgåsbord of beetroot and parsnips was served up.

Awww, father and son.  Happy little chaps
I just need to teach Puzzah how to perfect his Winning Smile!