It rained and rained yesterday.  We drove past the herd in Sandness, quickly counted legs, heads and tails and then drove home.  Not ideal but yesterday was not a day to be outside.
This morning, to make up for it, we went to visit everyone properly.
They were very pleased to see us – we did not bring food, just ourselves.
Lyra is the head of the herd.
She is not popular as she is so bossy and the boys do not appreciate this.
Hjalti is grow(ing) like Topsy and is a nice amenable chap. Not a mean bone in him.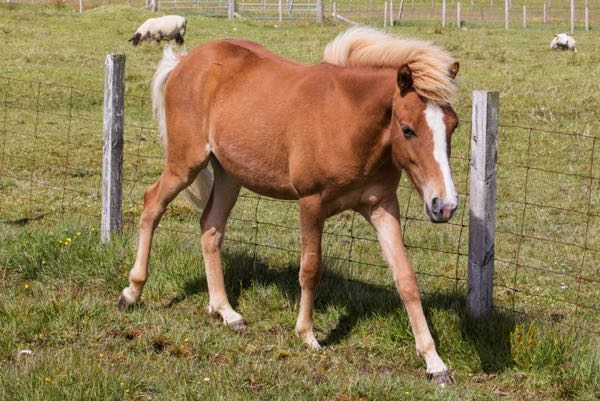 He is still happy to try and see if he can fit a whole miniature Shetland pony into his mouth and Storm, of course, is happy to retaliate.
Darling Silver.  All growed up – calm and approachable.  A real dude who manages to keep away from the arguments.
I seem not to have taken any photos of Waffle.  He has a nasty cut/bite on his jaw and he is feeling sorry for himself.
Little Tiddles seems to have turned feral in the past few days.  I have no idea why.
He was very wary of people, which is not like him.
Luckily Floss' magic worked its charm and Tiddles remembered that he liked us.
Delia is looking fabulous this summer.  Her weight is spot on.  Not too fat and not too thin.
She potters about and her legs are much less stiff, of course, in the summer, with the warmth. She still appreciates a cuddle.
So, I think, we are going to have move the Minions + Hjalti away from the two mares.  They don't need the hassle and I don't my little boys to be bullied by bossy women.