I drove Haakon in the trailer over to Sandness today for variety.  Jo rode Hetja and we set off down to Norby Beach.
The beach was fantastic – ok, it was high tide but there was plenty of sand to tölt and walk on.  It changes with every storm.
Haakon has always loved the sea.  He likes paddling, slurping and generally playing in the foam. For some reason watching the waves go in and out while sitting on my horse makes me feel very sick.  I had to shut my eyes to take this photo.  Ugh, my head goes very wobbly.
So, we walked sedately down to the bottom end, had one argument over a small stream that apparently would kill us and then we turned round tölting back, all the way.  After that we went round the village in varying gaits, though speeding up when we got to Hammy, Indy, Andy and Charlie's field.  They were at the bottom, miles away, and we snuck past at 100mph in case they came up to ruin the fence again.
I left Haakon at Jo's so we can repeat this ride.  It makes a nice change for us both.  Haakon was very happy to meet everyone.
He doesn't know Esja.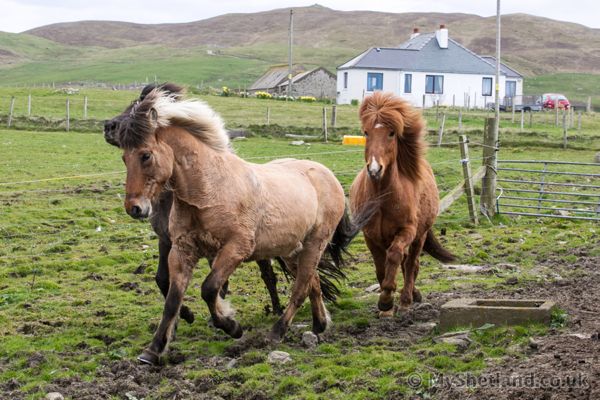 But he showed her his stallion-esque moves anyway.
I think this is where I shouted at them "do not lose your shoes or there will be trouble".
And please tell me this is not any part of trot.  We never trot.  I hate trot!