So, one week on, how are we all getting on? 
Was this the right decision – to take Puzzah, castrate him and let him live with the others (who were already a very happy settled little family)?
Well, so far, I can honestly say Puzzah has been nothing but a gentleman.  He has perfect manners, comes when he is called and is good around the others. 
It is lovely to see Puzzah change, trust and develop.
We have all settled into a good routine – in the morning I open up a field where they eat their breakfast.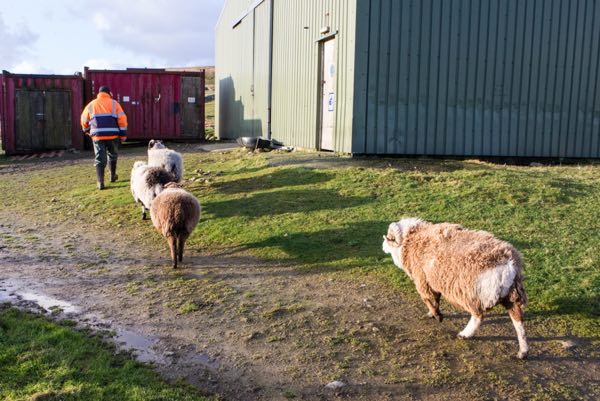 They then stay in their field for the rest of the day while cars and people come and go so if the gate gets left open, then it doesn't matter.  No one can escape into the hill.
Then, in the afternoon, once we are closing down for the evening, I open the gate and everyone comes in around the house.
Puzzah is learning that I want to talk to him.
This is all new to him – to be a pet.
He knows his name.  He comes when he is called.
It is important he learns that there is more to being a sheep.
I think he is getting it. This is the first time I have sat down with him – seriously, this is not to be advised with a butty rammy sheep.
And now Puzzah eats carrots.
It has taken a while – a whole week – for him to know what a carrot is, let alone eat it.
I think he has got the plot now.
Carrots are the new biscuits in this house (only for sheep, mind).
So I am hugely pleased with Puzzah's progress.
One of us! One of us!
I think this was the right decision.  He's a dude.