And so off to Maihaugen.
Maihaugen in Lillehammer is Norway's largest open-air museum outside of Oslo.
Set in a beautiful park, there are more than 200 buildings from different eras reconstructed and restored to their original beauty.
What can I say?
This is my idea of heaven.
We wandered about for hours.
Everyone went their own way.
I just wanted to take photos in the briliant sunshine, blue sky and snow.
Although we couldn't go into any of the buildings, we managed to look through the windows, and we could see so much.
This was Norway's architectural history set out beautifully for us.
(A thing pulled by horses that turned the hay over in the fields) 
A plough.
This is where the horses went round and round pushing a grinding stone.
The original glass.
The torvtak (turf roof) roofs were everywhere.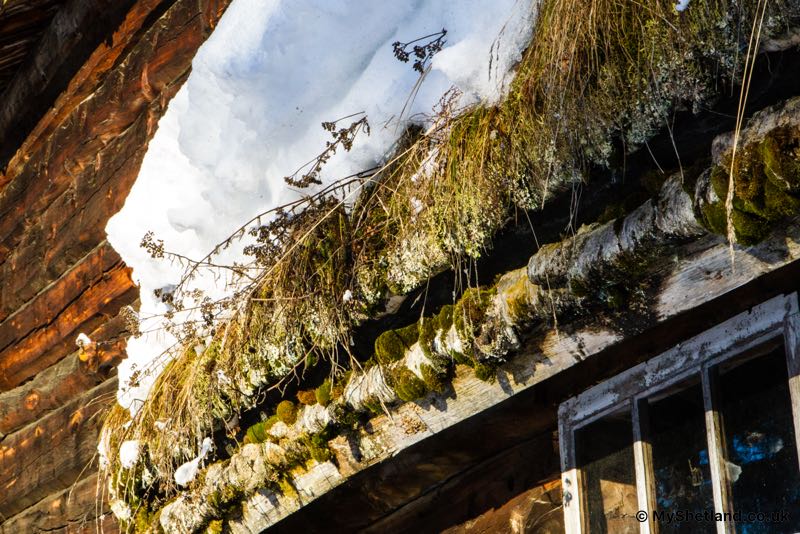 The timbers were interpersed with lichen or moss for insulation and draught exclusion.
So many buildings
Daisy has had to go through my final blog photos and pare them down for me as I couldn't.  I have so many photos of Maihaugen.  Possibly too many!
 
Maihaugen is a unique place.   No where else could you wander about like this.  The gates are opened at 16:00 for everyone to visit, free of charge.
There was no vandalism, graffiti or anything bad here.  Sadly, I  can't imagine this anywhere in Britain.  Not even Shetland.
Maihaugen was used as a set for "The Last King".  A superb Norwegian film about the Birkebeiners (a rebellious party in Norway, formed in 1174) carrying their infant king over the mountains from Lillehammer to Østerdalen in 1206.
Tomorrow, I promise, Shetland ponies.