Lots of ice out there.
Yes, it is beautiful, but it scares me witless.  The horses don't tend to move around much either.
Last year Iacs pulled his shoulder slipping on the ice (we think) and was very debilitated for a while.  Taktur will do anything not to walk on ice.
Anywho, horses needed to be fed so Daisy, Flossie and I boldly went, armed with a knife, some haynets, a wheelbarrow and I cut into our first silage bale of the winter.  Two weeks early, but needs must.  There is little grass.
I said yesterday I would try to wait until January before they start the silage but I can't just watch my horses standing around not eating.
We spread piles of silage on a dry part of the field.  There was enough plus leftovers for everyone.
Afterwards, I went out with my camera.
Albie and Newt were very happy to talk to me.
There may have been nose kisseys.
And why not.  My little Best Boys and I am secretly very happy they are home at Thordale for the winter.  I don't think I am ready to let them go away with the others.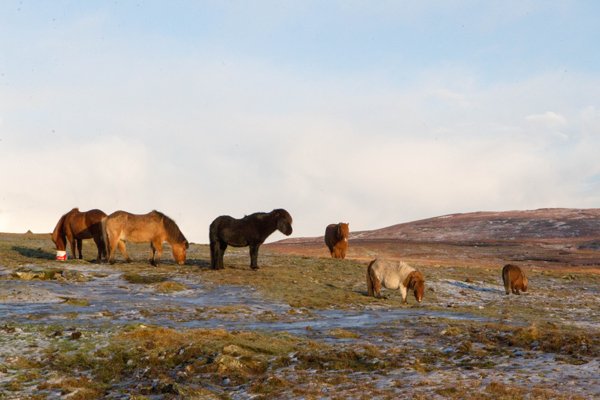 It is not the right time.  They need their Mum.
The others stood in the thin winter sunshine and enjoyed, for once, the complete lack of wind.
The lick bucket is a success.  Everyone has a shot at it.
I briefly looked at the ingredients:
Calcium, Phosphorus, Magnesium, Sodium, Vit A, Vid D3, Vit E, Cobalt, Iodine, Zinc, Manganese, Selenium, Copper, Biotin and a pile of trace elements in molasses!
Perfect for this type of equines.  Extremely good doers
Just when the day started beautifully, it clouded over and stuff fell out of the sky.
With this weather, it gets very dramatic and there is looming!