It is totally official. I am obssessed with the weather and now I think I have good reason – over four days of a storm, with gusts of Force 11 which is one off a hurricane.
I am not sure what to do, ie how to manage this. Today, I changed my mind while looking at four weather webpages and we battened down every hatch we could find.
For the old men, we decided they could go into the stable at night with a supply of hay.  During the day, they can come out and be around the house with Haakon wearing a rug, if required.  I want him to move about and have fresh air but not to have to stand outside in god-knows-what being miserable.  Floss and I will diligently poo-pick afterwards.
So is it better to:
 have the youngsters outside with rugs in a sheltered field (hills) and some grazing giving them hay, as and when we can get down to them?  Thicker rugs will stay on better (they don't have leg straps – just fillet strings behind the tail).Or:
Have them up in a huge field with less shelter (go find a wall to stand behind it) with very little grazing, bringing them into the stable for hay for, say, a morning to rest and eat?  It is easier to change rugs daily like that as they will be nearer the stable.
Decisions, decisions.  Today, I went with Option 1 as it will be windy, rain but warm.  As the wind turns around, I might go for Option 2. Floss and I are going day-by-day as safety allows.
I have sorted my rugs into piles according to size and who needs to wear what.  There is even one for Dreki if he needs but I couldn't feel a rib this morning.
Rugs are still drying from the last onslaught. Gah!
(Efstur's wee pile)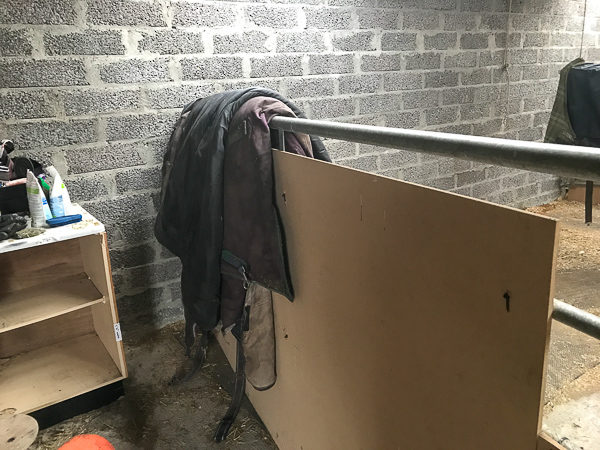 We have 12 bales (£7.60 a bale – yes, you heard right) of hay cut from the Elysian Fields and then imported to Shetland on the golden wings of unicorns – words fail considering it was a good year for hay.  Hay prices always go up, they never come down.
So that's me. I hope the electricity lasts. xx