Today was a very good day for a bonfire.
I was in a clearing out mood so, along with my sturdy helper, I took my wheelbarrow to the big shed.
I was quickly joined by Iacs and Haakon who decided they wanted to "help".  They had been hanging round the gate all morning refusing to go down to the bigger field to eat with the others. I have no idea why they particularly wanted to spend their day with me.
They helped in their own unique way.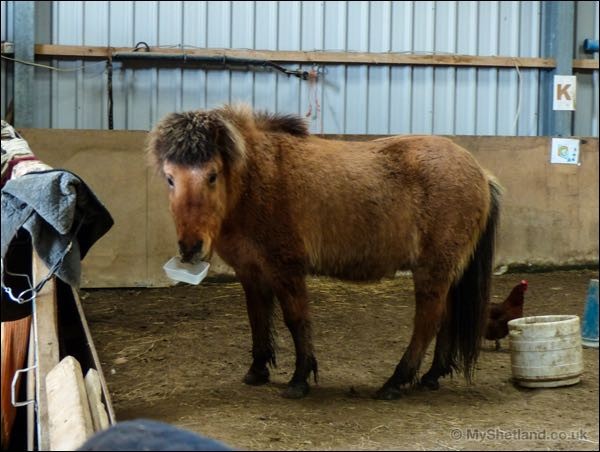 I cleared out all the old leftover winter hay dregs, swept up and put it all on my bonfire.  I then made a rug tree for the Shetland pony rugs.  Yes, that is The Minions' wardrobe.  They have more clothes than me!
After lunch, I returned to clean up the rest of the shed.  My helpers were still adamant that they could be of use.
I will admit that I got slightly bored of all this worthy industry and took to decorating Iacs with Daisy's old chaps!
He was also very happy to be BeAnne's sofa as well.
I worked very hard today.  It took about 6 hours in total – my back is killing me, I am covered in dust and my hair is gritty.  The saddle clothes and towels are now in the washing machine.
I found lots of things.
For example, I found that if you put an empty wine bottle plus lid in a bonfire, it will explode!  Oops.
I also found you can use Iacs to rest things on.
Who knows, I might even clean some tack next!