I feel exhausted.  I think it is from the release of the results of yesterday.
In an attempt to redeem myself and this blog, here are some recent photos of the bebbies, who are doing very well.
Storm (inaTeacup) likes to scratch his bum endlessly on the fence.  We have checked for "friends and relations" but there is nothing evident.  He is so small, he doesn't damage the fence like some fat Shetland pony arses.
I will admit that he is my absolute favourite – the most loving, gentle and a real "cutie patootie".  He is very wuffly.
TorBjørn is a darling too.  He is impossible because I can never get far away enough to take a photo.  My constant shadow who has a cheeky little sense of humour.
I have decided to keep both these ponies as they have wormed their way into my life.  They are each the size of a large (ish) dog and behave not dissimilarly too.
Silver will go back to his breeder in a few weeks/months, when he is ready to travel and when the sea is calm. He comes from another island.   Although a little more aloof, I am very fond of him but have not let him into my heart.
He is definitely one of the boys, though, and we will all be sad to see him go.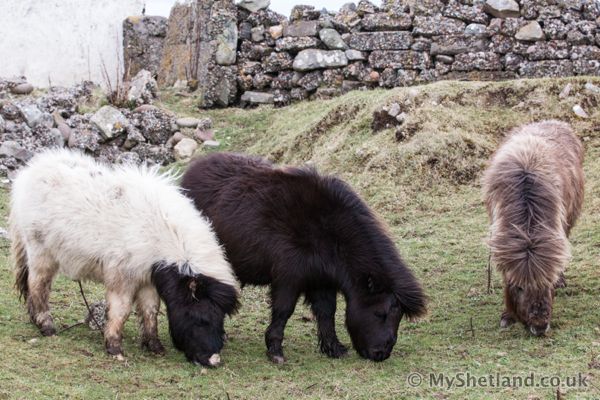 So, when my life has settled down (and we have mended the trailer ramp), I will bring my little family home.  When I write home, I do not mean they will live in the house even though Daisy has plans.