This is, well, this is another Shetland caddie lamb.
I need a name.
For those of you who live near me on the sunny Westside, then you may possibly have seen him in your travels.
Anywho, he lives with us now and I went to collect him this morning.
He reminds me of the sheep in The Little Prince by Saint-Exupery – a classic book.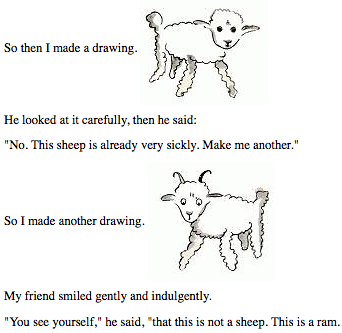 He is very photographic.  The camera loves him.  His colour is katmoget – Having a light coloured body with dark belly and legs and a moget face. The reverse of Gulmoget – http://www.shetland-sheep.org.uk/
BeAnne is not sure whether she loves him just yet.
As a storm is on its way (go away, please), I brought Lambie and Lambert in early.  They look huge beside him.  Ginormous.  Like fat western kids.
I am hoping that my little herd will all bond soon.  The newbie does not have to be tame, just follow the others when required.  Obviously, when and if it ever stops raining, I will spend some time trying to get to know him.
So please think of a suitable name that will complement Lambie and Lambert (perhaps with an L theme).