Floss and I have been working day-in and day-out like maniacs, feeding, checking, rug changing,  mucking out, feeding again, etc and, although it is always a pleasure, and never a chore, it can get a bit monotonous this time of year as there is little fun like riding.
Today we were out early, cramming our daily routine into the least amount of time possible as, once finished, we were driving to Lerwick.
As the weather was quieter today (though it revs up again tonight), we fed everyone outside, which made a huge difference to us all.  Life instantly became much easier.
Then once done, clothes changed, us vaguely cleaned up, we drove to Lerwick.
I dropped Floss off at the cinema (Little Women), and went to "do the Street".
One of the lanes.
The shops have started to get ready for the Lerwick Up Helly Aa which takes place on the last Tuesday of January. I think this shop window display sums it up pretty accurately – men and boys, dressing up, and torches.
Anywho, I popped into Jamieson's to see how my flock were getting on.  More "curlies" will be added tomorrow – as, stupid me, I had forgotten to bring them.
Onwards to the Choccie shop (Mirrie Dancers) for a quick purchase and sampling.
As well as making chocolates with gin (what's not to love – all my major food groups covered there!) ….
… they make chocolate orcas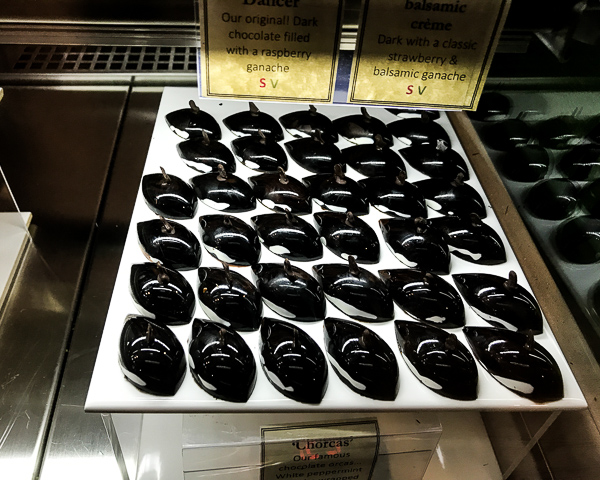 The ponies were pink today.
And there were pony lollipops in a basket.
So, we had a good "day off" such as it was. The R&R will stand us in good stead for the next weather onslaught which starts again tonight.