As ever, my obsession with the weather remains.  I watch the internet weather forecast daily and decide what my plans will be.
We have had a few glimpses of Spring recently which has given us a temporary respite from the harsh weather.
I noticed Klængur and Anderwoo were playing yesterday afternoon.  Klængur does not have the biggest sense of humour so it was very interesting to see who was initiating the game and if anyone was objecting.
I think we can safely assume that Anderwoo had started it – this is his classic launch attack position.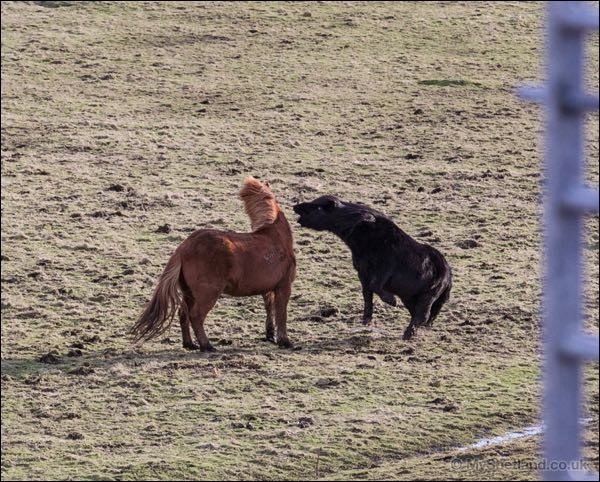 And Klængur was retaliating with an interesting knee attack.  To get Andy off his short little legs is quite an achievement.
I could watch my horses and ponies play for hours.  It is lovely to see, especially Klængur who does take life very seriously.  Andy is always looking for the chink in anyone's armour so he can exploit it to his maximum benefit.  There is so much mileage in winding up an orange Icelandic horse!
And then I saw this – Klængur following Andy so that the game could continue.
So they went on and on and on having the best time together.
That was our very brief glimpse of spring sent to keep us optimistic that winter will be over soon.  But the bad weather is back again tomorrow with a vengeance.
Prepare to batten down the hatches again.