I have started feeding "Golden Paste" to Iacs and Haakon.
(you may be aware that Delia has been eating this for a while now and I think I can see a difference in her gait – she is far less stiff.)
"Golden Paste" is a mixture of turmeric powder, coconut oil and freshly ground black pepper.  I make up a batch every few days.
Click here for the Recipe (it is very easy to make – only takes a few minutes.)  There is a human and other animals' version too.
So why is Iacs having Golden Paste?
I am giving it to him because he is stiff in his front legs and he is in a constant dwaam these days.  Could he be doitin'?  I hope not. He is turns 21 this year..  Anywho, turmeric is good for humans who are suffering from brain disfunction and arthritis, so I thought it could only help.  Iacs loves turmeric and sports the best golden moustache.
(it may help his silly-frilly too!)
s
Haakon has been on turmeric for a few months now.  He is not a huge fan of eating it but, if Iacs is after his bucket, then he makes more of an effort (Circling Vulture Syndrome).  As Haakon is an older gent and in full work. I don't want him to stiffen up and all I can say is that his tölt has never been better.  We black-and-decker all over the place at varying speeds and he goes like a train.  I love my boy and want him to live forever.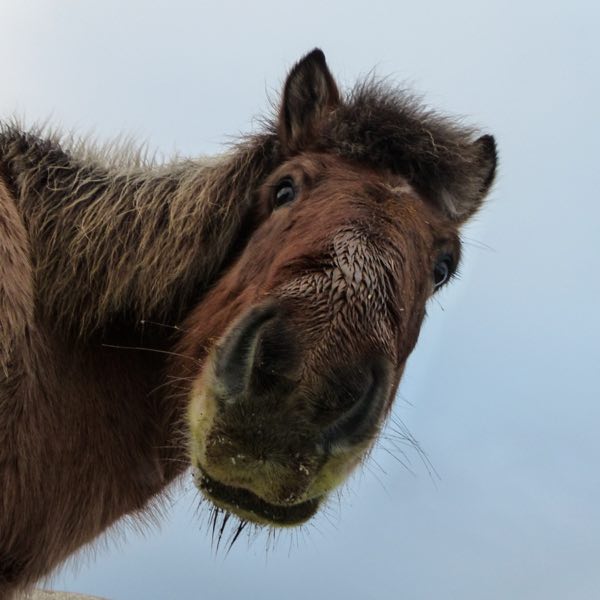 Klængur loves Golden Paste in huge chunks and will eat it "raw" from my hand (the others have it mixed with chaff).  He doesn't need it but he likes it so why not.
So, we have golden noseys and I think (ever the sceptic) that Golden Paste actually does help my old boys.  For as long as they want to eat it, I will make it.
As I said, it is really very little bother.